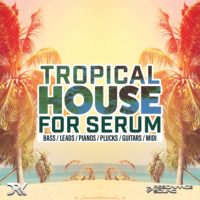 Tropical House For Serum
This is a free edit of the full version.
Tropical House is THE dominating genre this summer - guaranted to bring good mood to your beach party or festival. Wether it be on radio stations, TV spots, DJ mixes or at your local house party, Tropical House Music has become the most famous EDM genre in 2016. With its catchy melodies, mellow pads, Kalimbas, Pianos and smooth Guitars,
More...
There are currently no avaible audio demos for this sound pack.